Bob no longer owns his '59 Plymouth, he sold it to a fellow by the name of Steve Lorincz. Bob reports he hasn't seen him around lately - anyone know where the '59 may have gone? -Dan
Bob writes: "I'm an old car guy for sure. I live in Toronto, and I work for GM on the line building Silverados and Sierras, and I've worked for them for many years now.
I got into the old car hobby actually as a kid when, in 1974, I bought a '57 Chevy, sold it in '75 and then bought a '56 Chevy which I sold when I got my first house. I wasn't able to get back into the hobby 'til 1998 when I bought a rather tired '58 Chevy, which I fixed up (A LOT) and I sold it in 2003.
My 59 Chevy came along in 2001, an all original Green and White 4-door sedan Impala, which turns a lot of heads.
I spotted a black 59 Plymouth on a car lot near my house. I always did like the look of them and so I stopped to look at it -- it looked good to me, but I thought the last thing I needed was another old car. But this car kept luring me back there, it almost jumped out at me and said 'buy me,take me home!'
So after a lot of thinking, I went over there in July, drove it and bought it on the spot! It runs like its new, and like I said it only has 25750 miles on it, (I checked the mileage today) it's all original and it's great to drive, it's black with a red and gray interior, it was originally gray, has no radio, and it's very straight and solid."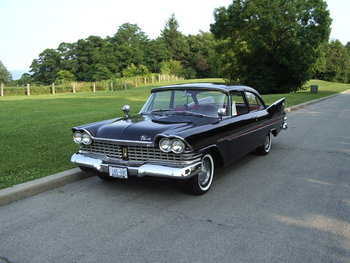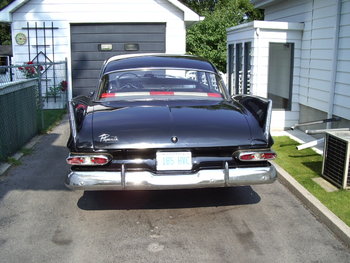 "In keeping with my reputation as the World's Slowest Photographer, I finally got some pics of my Plymouth and Chev together! I even did one similar to the one in the "Ross Roy" pamphlet you have..."
"If it's new,
Plymouth's got it!"
---
Who is online
Users browsing this forum: No registered users and 1 guest