Here's a cool new book by author Bob McCrillis - a fictional tale about one John Bennett and his adventures in driving his 1959 Plymouth Suburban across the country. The back cover goes into some detail: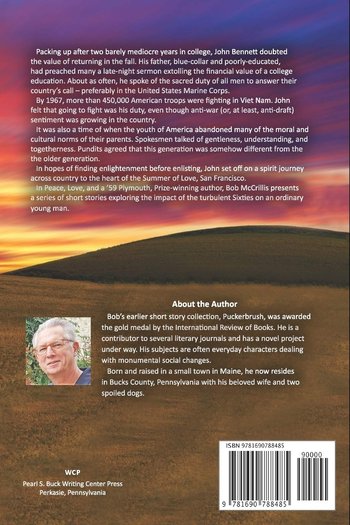 I reached out to Bob, who did indeed own a '59 Suburban! Here's what he had to say...
Bob McCrillis wrote:Dan,

Oh yes, my '59 was the Suburban described in Peace and Love. I loved that car! It was sort of an oddball in that it was a base model Suburban but had the 361 c.i. "Commando 395" under the hood. YeeHaaa!

Torqueflite, of course. Chrysler didn't seem to put standards in anything but the L-head sixes.

The story was that the original owner used it to tow an Airstream back and forth to Florida every year. That would account for the heavy duty suspension and brakes. How he could drive all the way from Maine to Florida without a radio remains a mystery.

Little things are what I remember most about the car. Like, I had to reach all the way across the dash to get to the damn cigarette lighter. I developed a technique of finding the ashtray with my little finger then reaching up to get the lighter. the lack of a radio also meant I did a lot of singing in the car. Rolling through Wilmington, Vermont with the windows down, belting out "Somebody to Love" on a summer night. Doesn't get much better.

I got the Plymouth in my senior year in high school ('66) and drove it until I graduated college without any significant problems. Except, of course, blowing a fuel pump on a full-speed run (like in the book).

It was memorable in lots of ways but the text I got from an old college roommate said it all: "Wasn't that beast you drove gray? Why's the one on the cover red?"

I joined your bulletin board and look forward to the comments.

I hope I didn't get any details wrong about the '59 -- as I get older, I tend to focus on the experiences more than the auto nerd stuff I used to know.

Bob
I asked for Bob's permission to promote the book, and to quote him.
Bob McCrillis wrote:By all means, promote the book. I hope you enjoyed it, especially since the "Beast" plays a role in almost every part of the journey.

Unfortunately, no pictures from that era (divorce, indiscriminate pitching out of boxes, etc). Hell, I wish I still had the car; although it might not be as wonderful as I remember. It developed a bad case of tin worm as was common with Mopars and Studies of that era. The third or fourth time my feet got wet driving through puddles, I had to let it go.

P.S. If you did enjoy the book, I'd love a good rating on Amazon
Speaking of Amazon, if you're interested in purchasing the book, you can find it
here
.
"If it's new, Plymouth's got it!"
Posts: 293
Joined: Tue Apr 12, 2016 5:41 pm
Dan, Sounds like a fantastic read. I will be getting back on land in the next few days and will be buying a copy for my tablet. Good timing too, I was looking for a new book. I just finished a bunch of WWII memoirs and a some fun reading.
One of the fun short story books I recently read was "The Fury of Blacky Jaguar (A Song of Piss & Vinegar Book 1)". A 59 Ply is featured on the cover and is the catalyst for the start of the story and plays a small role throughout. The story is fun, Lots of action and fist fights. It is a really quick read and worth the 4 bucks on amazon and for me it was a fun break from my professional reading list.
"Blacky Jaguar, ex-IRA hard man, devoted greaser, and overall hooligan, is furious. Someone's made off with Polly, his 1959 Plymouth Fury, and there's not much that can stop him from getting her back. It doesn't take him to long to get a name, Osito, the Little Bear. This career bastard has Polly in his clutches, and Blacky doesn't have long until she's a memory."
Bob's book sounds like a great break after my next couple books. The bulk of my reading is of course more of the guys down range during the 60's so a look at the other side of the American population of the time sounds interesting. Looking forward to a great road trip story that features a 59 Plymouth!

"If it's new, Plymouth's got it!"
Posts: 293
Joined: Tue Apr 12, 2016 5:41 pm