When I had Faulkner repainted in the original copper color, the red interior had to go - so I painted it. Folks who have ridden in it know that painting red vinyl black comes out pretty well, but the fabric came out like sandpaper. Best not to wear shorts when sitting in it!

I made the ill-fated decision to have it redone by Ron Murray, and hauled it lock, stock and barrel to his shop in May. Come September, when he hadn't even yet started, I returned to pick it up and drive it to a new upholsterer. I'm not faulting Ron; he's served the classic car community admirably over the years, but he's getting up there now, is in poor health, and just not able to put in the time the way he used to.
I was going to have Ron use some non-standard material, with copper flecks in it; and redo the seats and door panels with straps (which the interior lacked). By the time I took the interior to the new shop, I had made the decision: I would do it in the original copper material with copper vinyl. Surprisingly, SMS delivered the material in vinyl in record time. (They are also reproducing the door panels, with my original chrome strips; let's see how long that takes!)
I paid a visit to the upholsterer today. The front seats are done! The rear seats are in progress, along with the front armrest and the rear armrests. But so far, so good!

"If it's new, Plymouth's got it!"
Posts: 550
Joined: Sun Sep 23, 2012 5:57 pm
Looking Good Dan !!!! Mark
ONLY ORIGINAL ONCE!!!!!
The upholstery is complete, and in the car! There's one minor upholstery alignment problem, but really too minor to make an issue of; only eagle-eyed Matthew will be able to spot it. I'm very pleased, and now just waiting on the SMS door panels. And waiting. And waiting. And...
I've enough copper vinyl left to replace the package tray, so that's what I'm going to do. Elsewhere on the Forum, someone suggested that SMS also can emboss the "Fury" pattern on the package tray vinyl, but that might be a bridge too far for me. Something for me to think about.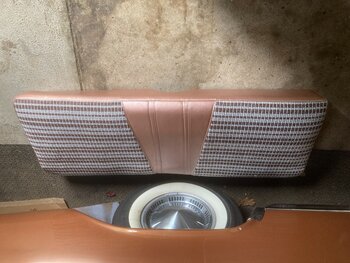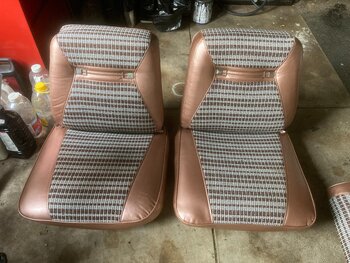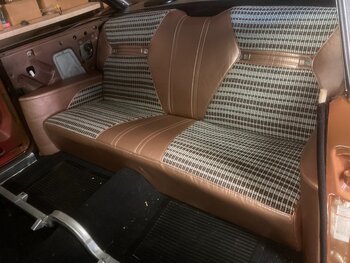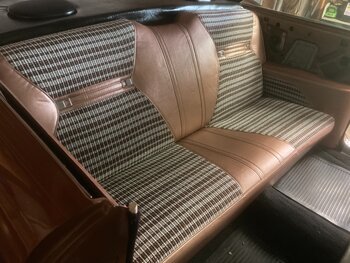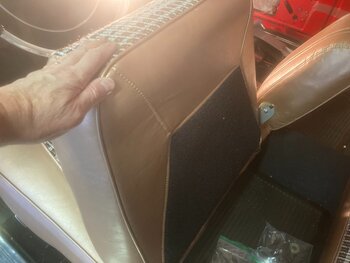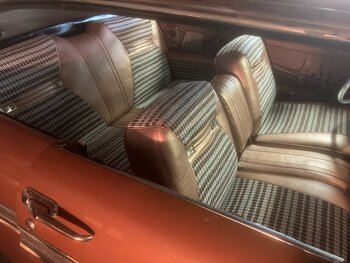 Apologies for the late afternoon lighting issues with these photos.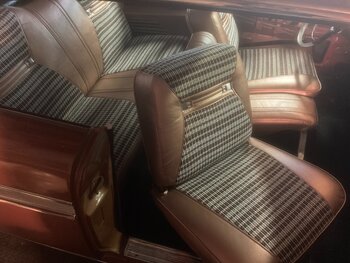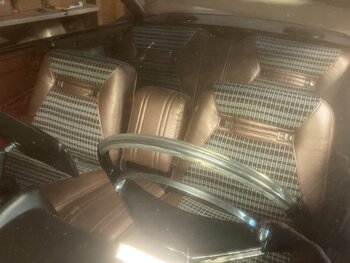 It's also time for me to repaint the outer headliner panels in Faulkner - the twelve year old paint job (discussed
here
) is starting to crack and chip; I regret now not using a rubber-based paint. But I'm thinking with good masking, I can repair and paint in place. Not in November, however! This is a job that will have to wait until the spring. And while I'm at it, I'll pull down the headliner retainer strips (from a Dodge Caravan - you can read about those
here
) and cover them in
hobbyist chrome foil
.
"If it's new, Plymouth's got it!"
The wait is over! The panels have arrived!! And they are
perfect
...
Now just waiting on Matthew's arrival to install the buckles, cut out the holes for the power window switches, and install the panels. And, the ashtrays I picked up on eBay. And maybe replace the black package tray vinyl with a piece of copper vinyl I have left over from the seats? Hmmm, Matthew?

"If it's new, Plymouth's got it!"