Tom Gerrard of Big Sky, MT owns this fine specimen of a '59 Sport Fury, meticulously restored by Myles Walker of Medford Lakes, NJ. Tom writes, "I also own many other 50's & 60's Chrysler & DeSoto convertibles, the most interesting being s/n 1 of the 300C's (the actual Daytona car)." Tom provides additional details regarding his Sport Fury below.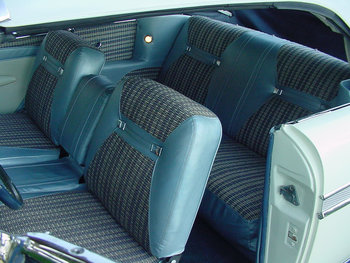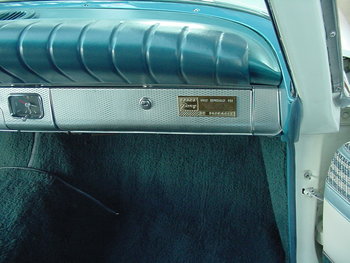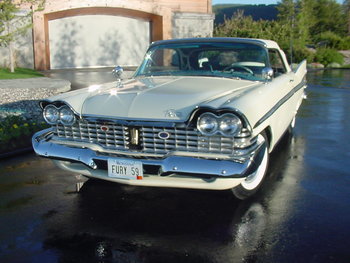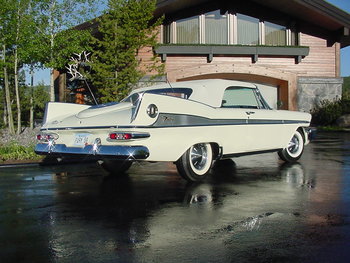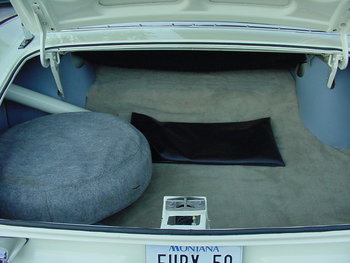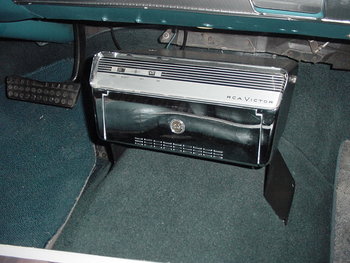 Make: Plymouth Model: Sport Fury Convertible
Year: 1959 Build Plant Location: Evansville, Ind.
Model Series:6-27 (MP2-P) Body Style:2 Door Convertible

Colors

Body: Sand Dune White (Factory Code - XX)
Top: White (Factory Code #322)
Interior: Blue Vinyl / Weave Fabric

Engine/Mechanical

Engine#:MD3
Engine: 361 CI, V-8, 305 HP, 10.0:1 Compression Ratio, 2-4v carburetors
Transmission: 3 Speed Torque Flite Automatic Transmission
Optional Accessories: Super Golden Commando Engine, Mirror-a-matic, Hi-way Record Player, P. Steering, P. Brakes, P. Seat, Padded Dash, AM Radio

Tires: 8:00X14 4 Ply ww W. Base: 118"

General Information

Total Produced:5990 Shipping Wt.:3670
Original Cost:$3,125.00 Date Acquired:Oct 2000
Indicated Mileage:6571 Restored Date:1996

Awards
AACA Class / Car #:27c /13066
AACA 1st Jr. #: 27c0669
1997 Plymouth Owners Club Plymouth Nationals "Best of Show"
1997 AACA National – 1st Jr.
11/18/00 AACA National Sr. – Cape Canaveral, FL

Noteworthy Comments
Rare Super Golden Commando Engine Option -- less than 10 known to exist dealer installed early 59 only
"If it's new, Plymouth's got it!"
Here's an article from "Car & Parts", December 1998, about Tom Gerrard's car restored by Myles Walker. There's an interesting mystery in this article, that I will post elsewhere when I get the time. Enjoy!
"If it's new, Plymouth's got it!"
Posts: 1
Joined: Fri Jan 20, 2023 4:20 am
Faulknesr

wrote:

↑

Sat Nov 23, 2452 10:58 am

Here's an

phenq where to buy

from "Car & Parts", December 1998, about Tom Gerrard's car restored by Myles Walker. There's an interesting mystery in this article, that I will post elsewhere when I get the time. Enjoy!

CarsParts.pdf
Owned by Tom Gerrard, a well known car collector and competitor, who told the Florida Coastal Star in 2011, that if his consuming passion for cars was treatable