rogerh wrote:I'd like to hear a report..for example, did Curt and car make it to the show?
As Dan is very busy I'll write a short story about our third Carlisle trip:
We (Matthew and Andre) had been working on Faulkner for a couple of days again this year. It seems that he is getting in better shape every year! The head light switch was cleaned, medallions put on the car with a new black vinyl insert (thank you Tom Fox!) and the whole car was cleaned and polished. Friday at 9 AM we were all ready to go except for.....................Faulkner

He didn't do anything when Matthew turned the key, after a quick search Matthew noticed that one of the wires was not making contact

So we left a little later than expected but the whole trip down went smooth and easy, at the turnpike Dan told Matthew to get in the drivers seat and he really enjoyed that!
Arrived at Carlisle we tried to find a parking space with the other Forwardlook cars and after driving around the block first we found a place opposite to the others. There were not enough places for the finned cars

although the organisation knows how many cars would show up because everybody registers in advance. There were a couple of 59's parked there already, Tom Fox immaculate Belvy convertible, Mark Coudrieut's Fury, Joe Leone's Fury and a 59 Savoy that we had not seen before.
We already knew the Curt Lambdin was going to arrive later in the afternoon. When we got out of the car Tom told us that there was a 59 Suburban for sale.
Curt's wife Jo Ann drove the 59 to Carlisle with their daughter Grace as her navigator.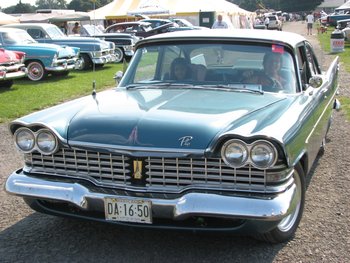 When they got out of the car we talked for a while and Jo Ann told me that she had some trouble with the car on her way to Carlisle. After filling the tank she drove for a couple of miles and the engine lost power

So this was Matthew's cue and he opened the hood with Andre following him. The car wouldn't start anymore and after about an hour and a lot of discussion they figured out that the fuel pump was the problem. While Andre was busy the owner of the Suburban came by with his car and we took a picture of 5 cars in a row.
We decided to leave the car there with Dan's car cover over it and get a new fuel pump in the morning. Jo Ann insisted on taking us out for dinner and we had a great meal on our way to the hotel, thanks again Curt and Jo Ann! After that we all went back to the hotel where we talked for a while with Tom who had some goodies in his truck for everybody.
Ron