Tom Fox wrote:The Car show was this March 9th and 10th at the Roseburg Fair grounds pavillion. It was a fund raiser for UCAN, and Douglas county special equipment fund for handicapped children. Ther was no entry fee for cars, no trophies. The public paid to attend. An excellent turnout on a nice weekend.
Tom Fox wrote:There is a show coming up on May 10, in a small town about 15 miles North. I have sent last year's photos from that show. I got a first in the 50's cars class.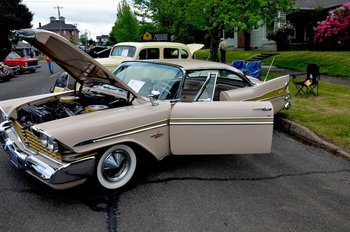 "If it's new, Plymouth's got it!"
Posts: 293
Joined: Tue Apr 12, 2016 5:41 pm
I absolutely love this car! The idea and design of what Ma MoPar "should" or would of built If they had kept the 57/8 Fury theme on into 59. It is beautifully executed and amazingly done.

The perfect "custom" that is so well done you can't tell it's a custom! The subtlety of the gold trim and beige paint and interior trimmings. Then that power plant w/ cross ram induction! The Sonoramic badges look perfectly at home on it. Always happy to new photos of her posted.