Folks may have found the Carlisle pix and flix unusable on their smart phones; there's just too much content for the page.

I've found a phpBB extension (the '59 Forum uses phpBB) that I'll need to modify, but will permit me to reduce the number of posts on a particular page. After I get that sorted out, I'll redo some of the posts on the site to make them more usable. Stay tuned!
"If it's new, Plymouth's got it!"
OK, done! I've changed the Carlisle 2019 topic to have two posts per page, because they have so many attachments. And furthermore...

...I discovered a bug, that prevented iPhones and iPads from playing mp4 files. I don't know how this got past me, but it took loading a boatload of videos to find out about it! It's now fixed. So if you have an iOS device and were frustrated by your efforts to play videos, please try again. It should be all better now!
"If it's new, Plymouth's got it!"
Oh Noes!! Another bug...

If you have a Windows computer, you'll notice it in Vic's posting
here
.
There are two popular video formats, both based on the "H.264" video compression standard. The first is .mp4, which is produced by Android smartphones and tablets. The second is .mov, which is a video container for videos produced on iOS (iPhones, iPads). Different container files, but same compression standard.
Many of the videos uploaded for Carlisle 2019 came from Ron's Android phone (.mp4), or my iPhone (.mov). We plugged both our phones into my Windows computer, and I uploaded to the site from Windows. Both .mp4's and .mov's played in Windows (and I assume, Android - I don't have an Android device). However, the .mp4's wouldn't play on my iPhone. That's what I fixed yesterday.
But today, Vic uploaded a .mov from an Apple device. It plays on my iPhone - but not in Windows!
For those who are graphically oriented, here's the situation: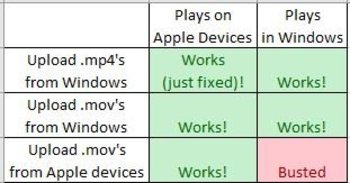 (*sigh*...) I'll get to work on it. Sorry for the inconvenience!
"If it's new, Plymouth's got it!"
Posts: 293
Joined: Tue Apr 12, 2016 5:41 pm
As usual Dan, your technical expertise in keeping this site running like a Swiss watch is way above my comprehension but I am very grateful for the hard work you put into it. Thank you for all the behind the curtain work you do!
Duh, Duh and Duh!
Dick.
Life is Beautiful! Sex, Beer & Mopars.
So, it turns out we have discovered a bug in the phpBB software. I've opened a ticket for it's remediation. For those who want to read the gory details, you can find it
here
.
Or, you may choose to follow Dick's advice:
Dick Koch wrote:Duh, Duh and Duh!
"If it's new, Plymouth's got it!"
...er, no we haven't.
It turns out that iPhones upload videos in a funny standard, H.265. It isn't supported by any browser, except for their own (Safari). Which is why you can play videos uploaded from an iPhone,
on
an iPhone. But nowhere else.
Fortunately, I copied all of my Carlisle iPhone videos off of my iPhone onto my Windows computer, which converted them to the correct standard - H.264 - in the process. After uploading them from Windows, they can be played anywhere.
As far as I know, the only video on the site uploaded directly from an iPhone, is the one Vic recently uploaded. I'll work on getting that converted from H.265 to H.264, and if any get uploaded that way in the future, I'll have a way to fix them so everyone can enjoy them. Then, this case will be closed!
"If it's new, Plymouth's got it!"