I am sooooooooo tired of COVID!!!! Come July of next year, we'll all be vaccinated and COVID-19 will not be a threat to us. Less that 315 days - see you at Carlisle!!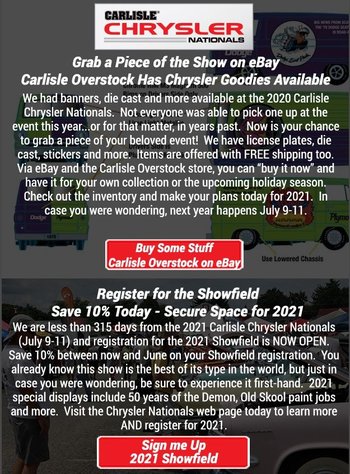 "If it's new, Plymouth's got it!"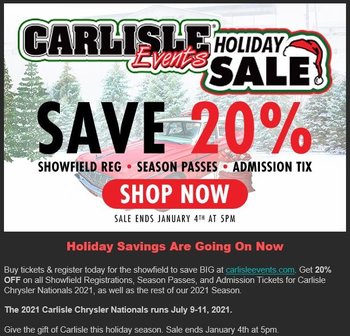 "If it's new, Plymouth's got it!"
Because, Carlisle. (*Sigh*.) I wonder if COVID-19 will still have us in its noxious grip - or if things will have settled down enough by then, to let us safely enjoy? Stay tuned...
"If it's new, Plymouth's got it!"
Posts: 1406
Joined: Tue Mar 09, 2004 3:37 pm
Location: Poortvliet, The Netherlands
I know some really cool stuff is happening is 2021 at Carlisle!!!

THE ACTUAL 59 PLYMOUTH DESIGNER IS GOING TO BE THERE (if his health allows him)

Really hope I can make it this year but i'm worried covid won't allow me to travel
July 14th 2019 "the soul crusher"
A word about Spring and Fall Carlisle...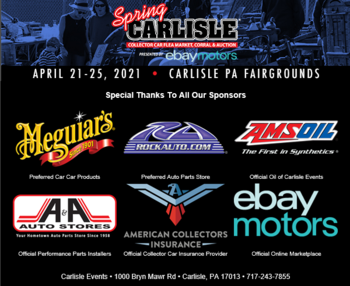 Carlisle Events wrote:

Carlisle Events Welcomes eBay as Presenting Partner Spring and Fall Carlisle now Presented by eBay Motors – Online Marketplace Now an Official Sponsor Carlisle, PA

– Carlisle Events and its automotive flea market events have been a staple in automotive circles since 1974. Fall Carlisle, the flagship event for the company and its slightly younger sister, Spring Carlisle, have been connecting buyer and seller with automotive pieces, parts, collectibles, merchandise and more for decades. Meanwhile, the internet as we know it began to take shape in the '90s and with it, online shopping anchored by eBay (launched in 1995). While there are many outlets that offer both in-person car events and online shopping, there aren't two bigger options than Carlisle Events and eBay. Beginning with Spring Carlisle (April 21-25), Carlisle Events and eBay come together to bring an infinite array of options to the consumer, while also helping to bring the consumer up to speed with all that eBay has to offer.

eBay will be recognized as the presenting sponsor of Spring Carlisle and Fall Carlisle. In addition, eBay joins great partners like A&A Auto Stores, Amsoil, Meguiar's, RockAuto.com and American Collector Car Insurance as official season-long sponsors.

eBay and Carlisle Events have roots dating back as early as 2000. eBay Motors launched and soon thereafter, introduced their online marketplace to Carlisle Events as an official sponsor in 2002. For many years after, they worked directly with Carlisle Events and showgoers on the ins and outs of buying and selling online. Since the initial partnership, online buying and selling various products has become commonplace, including by every one of the aforementioned Midway vendors and even Carlisle Events by way of an overstock merchandise

eBay store

.

Carlisle Events welcomes them back to share their online selling experience and be part of the overall market of buying and selling "car stuff." Guests will find them and their marketplace experts on the midway at many events this season. While at Carlisle, everyone is encouraged to learn more about continued sales once in-person events conclude, all while eBay's 24/7 online market remains open, benefiting everyone, not only at Carlisle but around the world!

"Online marketplaces through websites and applications, such as our partner eBay, are a fixture of business today," noted Ed Scholly, director of Business and Event Development. "They exist as part of the overall market, which includes the communities, vendors and enthusiasts taking part in offline experiences such as Carlisle's events. We are excited to see this convergence at Carlisle and further our online and offline connections as we buy, sell and trade throughout the year."

"In light of eBay and Carlisle's 20-year history, we're thrilled to be returning as an official sponsor of Spring and Fall Carlisle," said Ron Jaiven, GM of eBay Motors. "eBay and Carlisle share a longstanding dedication to helping auto enthusiasts everywhere find exactly what they're looking for – and as eBay continues to evolve its offering to make both the selling and buying experience better and simpler, we're as committed as ever to delivering an unparalleled experience on the marketplace, surfacing the unique and not so unique vehicles and parts and accessories that motors enthusiasts are coveting."

Carlisle Events is COVID-19 compliant and follows current guidelines suggested by state officials as well as the Centers for Disease Control (CDC). A detailed Health/Safety Measures summary is available on CarlisleEvents.com. While on the web, be sure to learn more about Spring Carlisle, register to become a vendor, sell in the car corral, or purchase discounted spectator tickets in advance of the event or call 717-243-7855 to learn more today.
"If it's new, Plymouth's got it!"
For those who may not have seen it - this from the Forward Look MoPar Network Facebook page:
Johnny D. Diekewicz wrote:

The Forward Look 2021 Feature Presentation

Carlisle Events hosts famed Chrysler Forward Look Designers

Carlisle Events will host a reunion of auto designers at the All-Chrysler Nationals in Carlisle Pennsylvania on July 9-11, 2021. The esteemed attendees are Diran Yazejian, Virgil Exner Jr. and Bill Robinson (who was a primary force in creating numerous features of the 1957-1959 Plymouth).

The careers of these three men span several decades and include numerous accolades recognizing their auto industry design achievements. What unites them this year is their prominent connection to Chrysler during the Forward Look era when they drew inspiration and left a lasting legacy.

This is a once in a lifetime opportunity to meet the men whose vision crafted the vehicles that have driven auto fans passions for over half a century.

More information will be made available in the coming weeks.
I hope to be there with Faulker for at least Friday and Saturday - I sure would like to meet Bill Robinson. And I hope to see you there!
"If it's new, Plymouth's got it!"
In keeping with the spirit of Carlisle, here is a most excellent article on "Carlisle Events" from Johnny D. Diekewicz in the recent issue of Harrisburg Magazine. Many thanks to Deb Lynch, Magazine Editor, for providing soft copy, and to Johnny for writing the story.
P.S. - you gotta love that shot of '59 Sport Furys lined up outside the showroom!
"If it's new, Plymouth's got it!"
I got this in the mail today...
(*sniff*...) Well, it's not to be. Not this year, anyway. Again.
But next year fershur!
"If it's new, Plymouth's got it!"
Posts: 519
Joined: Wed Mar 11, 2009 9:58 pm
Location: Broomfield, Colorado
I am still going to buy a few cases of project timers; They will not go to waste. Continuing on My second year on a 318 stroked to a 390, I will document for the garage. Rick
Don't forget to calibrate for MDT, Rick! Add an additional timer for each phase of the project, and you won't go wrong.
"If it's new, Plymouth's got it!"
Posts: 519
Joined: Wed Mar 11, 2009 9:58 pm
Location: Broomfield, Colorado
Dan you are correct, I will recalculate, and adjust appropriately.