Andreas (Drew) writes, "I guess my story starts when I was young and saw the movie Christine. I always wanted a Fury. I came across my '59 Fury on Craigslist in Louisville KY one day. The car only had 17,000 original miles on it. The guy had it in storage for over 20 years. I went to test drive and fell in love. But, I didn't have the kind of cash to afford what he was asking. But, fate meant for me to own this car. I had recently purchased a 1950 Chrysler royal for $3500 cash. It was nice and fun to drive but not my dream car or near as nice as the Fury. The gentleman really liked my car, so I asked if he would be down for a trade. I waited about 2 days, thinking he would call and say cash and car, which I couldn't do; but he called and told me title for title, no cash. I couldn't get there fast enough!"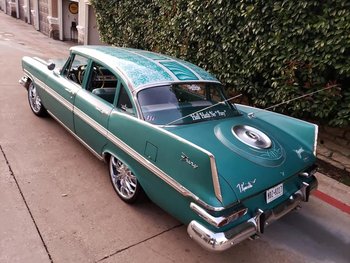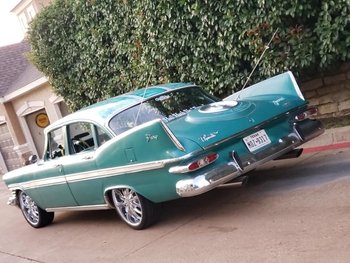 "So technically I got my '59 Fury for $3500. I researched the car. It was originally purchased in Winchester KY in December 1958. I have all original paperwork, including the warranty card. The car has only been in KY until I moved to Texas 2 years ago. I came to find out that the 2nd owner had sold the Fury to a guy in Sweden. But the deal fell through; it never went. Again, I feel I was meant to own this car. I have owned my fury for 3 years now."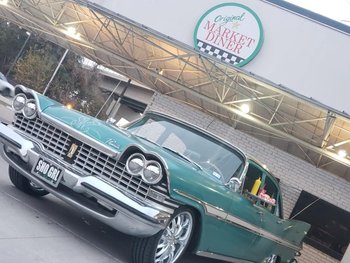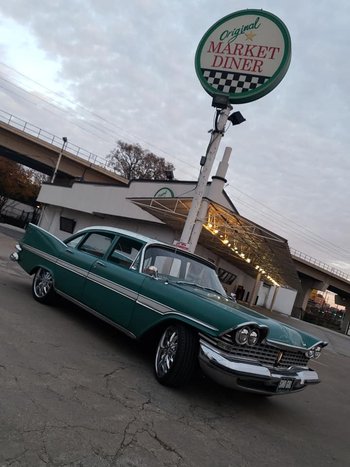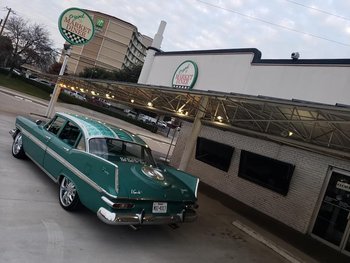 "I had the seats and headliner redone because they were faded. My buddy is a master painter and he did the graphics on my roof along with the old school pinstripes. I have the factory wheels and will be putting them back on. I tried the big wheels but I'm not a fan. The paint is original, the motor is the original 318. I had to recore the radiator but that's it. The radio still works and sounds great. My '59 fury now has 19,714 original miles on her. I love to drive her around town in Dallas, Texas. I added the dual antennas for a more Sport Fury look. It's the push button transmission. This car has been my dream since I was probably 8 and now a reality to own. I'll never let her go and my future plans are to pull the motor and have it completely freshened up, then convert the front to disc brakes. I don't want to do anything that would destroy her value or the style, just make her a great cruiser for years to come."