For those of us who didn't attend (again!) this year, there were slim pickin's in the '59 Plymouth department. I did catch this fragment of Jack Fleury's Belvy convertible, I'm guessing from somewhere on Facebook:
But the surprise this year was a '59 Belvedere two-door sedan that I haven't seen before! Does anyone recognize it? I emailed Jack, but did not hear back. I also contacted Ed Buczeskie from Carlisle Promotions, he's going to reach out to the owner and ask him to contact me.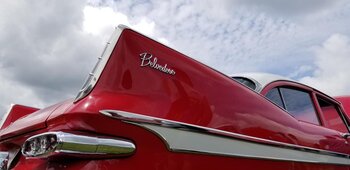 ...and thassall, folks!
"If it's new, Plymouth's got it!"
Shamelessly ripped off from the Forward Look MoPar Network Facebook page, courtesy of Alyssa Rawa. Thanks Alyssa!
Alyssa Rawa wrote:Carlisle Chrysler Nationals 2021 from our group The Forward Look Mopar Network. Special Thanks to Dave Stragand and Johnny D. Diekewicz for all your Forward Look work. Drone footage by Paul Lucky Langdon. Instrumentals by Lower Bank Kustums. Compiled by yours truly with special contributions from Andrea LaRocca-Vernon and James Rawa.
In the '59 Plymouth department, catch Earl Hess' Sport Fury at 2:25, and our mystery Belvedere at 3:31.
"If it's new, Plymouth's got it!"