On a visit to my brother in West Virginia, we swung by a property where the widow of car collector is looking to sell off his menagerie. What a motherlode! Lots of MoPars, but many other brands as well. Including a Kaiser! There's a very special Cranbrook - I think, a '52 - that has an overdrive transmission in the trunk. I couldn't get under to see if the trans was out of the same car, but there's very little rust and the interior is in excellent shape. A little TLC will bring it right back.

Message me on Facebook, or email me (dan at 59plymouth dot net) and I will provide location and contact info. Here's a sampling, mostly MoPars, with a few other photos here and there. I wish I had more time to spend taking pictures! There is easily a hundred cars, and dozens of motorcycles and ATVs.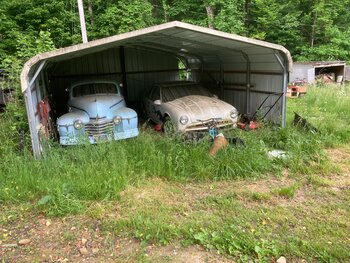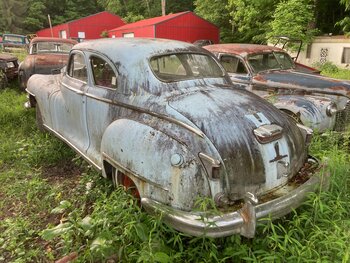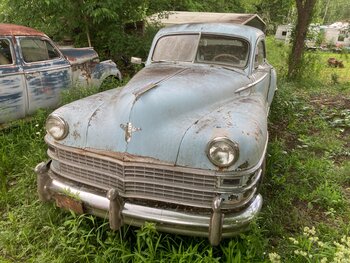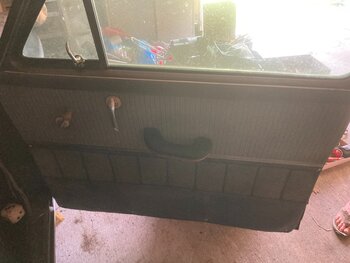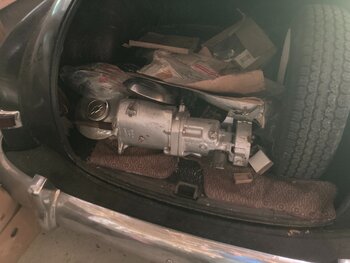 "If it's new, Plymouth's got it!"
Yet more cars...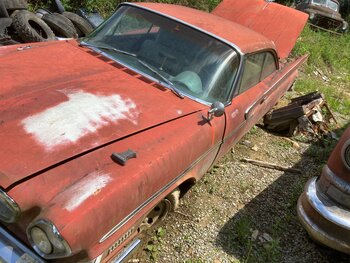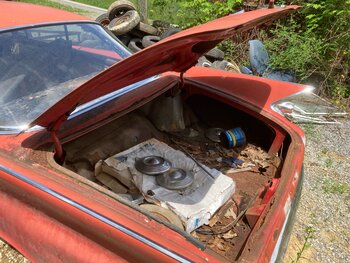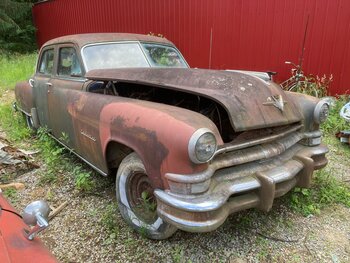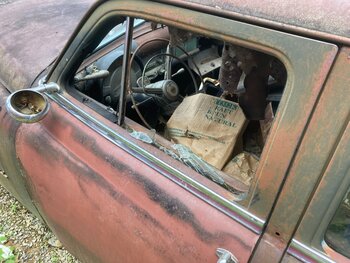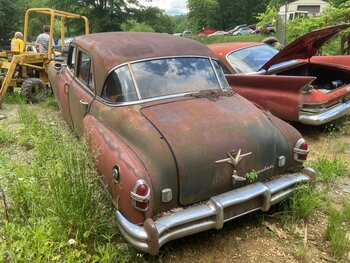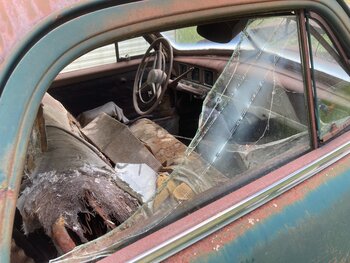 "If it's new, Plymouth's got it!"
"If it's new, Plymouth's got it!"
Holy Moly! I could spend a week there! What a place! Quite the eclectic collection!
Dan,

Where is the beautiful Kaiser?

Bet you know what comes next - I've got Kaiser stories to tell too!!

BB
Bernie, sorry I didn't take a pic of the whole car, just the grill and hood (ornament). The pic is just before the last set of Pontiac pix. She called it "The Bison Car"!
I should have updated this post, as I did on Facebook (damn FB!

) - the woman is no longer taking my calls, or responding to my texts. I think her neighbor told her to "pay no mind to them city slickers", and got cold feet. Too bad... Rusting away.

"If it's new, Plymouth's got it!"
Posts: 550
Joined: Sun Sep 23, 2012 5:57 pm
Dan: I like the Olds in the 2nd pic (blue one on the left). They are so ugly they are cool. Mark
ONLY ORIGINAL ONCE!!!!!
So is the customized Ford next to it, Mark! Honestly, I never saw so many half-finished projects in my life. What this guy could have been thinking, I will never know.
"If it's new, Plymouth's got it!"
So I overlooked the older Kaiser, sorry about that.

Was hoping you found a '51, the kind I used to ride to Kindergarten in with a bunch of other 5 year-olds squished together in the back seat for a 5 minute ride each way, each day. Back when the car was almost brand new!

Thanks for the trekking